Prime Telecom understood how important the doctors' protection is during pandemic period generated by the covid-19 virus, and came up with a concrete solution to help during the crisis, by purchasing and donating 2 3D printers, in order to produce frames for visors, to be donated to doctors in hospitals who are treating patients infected with covid-19.
These 3 D printers will be used by a team of engineers from Timișoara, who is coordinated by Narcis Cuciureanu from, Top Diagnostics. They have already been involved in the manual production, of 500+ visors, from transparent PET GAG material of 300µ, with a frame with an adjustable system. All of them were donated, free of charge, to Timisoara Hospitals: Victor Babes Hospital, Municipal Emergency Clinical Hospital, Louis Turcanu Children's Emergency Clinic Hospital, and Railways Clinic Hospital.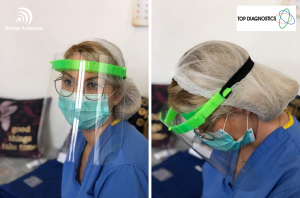 The team of technicians has carried out several design tests, and refined the frames according to the feedback received from the doctors. Now they are producing a stable, and comfortable type of visor adapted for all types of physiognomies, which can be used by individuals who are wearing glasses. They manage to find an optimal angle of curvature that ensures, in addition to the necessary protection good ventilation to prevent the screen from fogging during use. For the screens, a certain type of polycarbonate material is used, which is not exposed to contact with biocides.
With these 2 new 3D printers donated by Prime Telecom, on April 3, 2020, it will be possible to increase the number of visors produced per day, from 10 at present to 20 in the following period, following the products being donated to the doctors from the Surgery, ATI departments. / UPU from the hospitals in Timisoara, Arad, and Caransebes.
In case you want to support the volunteer team, please do not hesitate to contact the coordinator, Narcis Cuciureanu directly.
Disclaimer: Visors are not certified and are not intended for sale. These are provided only free of charge to the doctors, in order to provide additional protection, and the material used in their production is from the own sources of those involved voluntarily in the project.