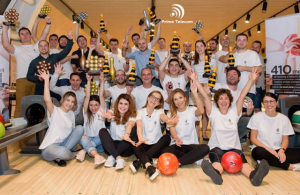 During this extremely rainy period, we were glad to welcome the  #IMMOFINANZ invitation to join the bowling and billiards championship organized for the #myhive community.
We played, we socialized, and finally we won, 3rd place in bowling and billiard teams and the 1st place in the billiards, teams and individually!
Congratulations to all, it was a pleasure to meet our neighbors in Iride Business Park, thanks to Diana, we promise to train for the next editions!